November 14-20, 2021 marks this year's Victims and Survivors of Crime Week. It is an annual outreach initiative from the Justice Canada Policy Centre for Victim Issues. The goal of Victims and Survivors of Crime Week is to raise awareness about the issues facing those who have experienced crime, and advocate for those facing abuse who may have not have access to services that meet their needs. This week is also a time to acknowledge and discuss different ways service providers, such as Elizabeth Fry Toronto, can continue supporting survivors of crime and their families.
Participants:
Co- Host: Kendra St. Cyr, Communications and Fundraising Coordinator
Co- Host: Natalie Carpentier, Manager of Development and Communications
Nana Boateng, TREM Counselor
Sarah, Client of Elizabeth Fry Toronto
Kelly Potvin, Executive Director

Click the stop sign to the left to listen to our honest discussion about the impacts of experiencing trauma, abuse and criminalization.
Navigating the criminal justice system can be a very difficult process for those who have experienced crimes like gender-based violence and sexual assault because of the inherent trauma that is attached to these forms of violence. Often times there is an assumption that going to the police is the next step after experiencing a crime, but in reality there are many barriers that can make survivors hesitant to report a crime.
About 44% of women in Canada have experienced some form of domestic abuse
There are added hesitations and stigmas for racialized women who have experienced a crime. Not only are they less likely to be believed, they have to face the potential consequences of causing more harm to their perpetrator if they are from a racialized community. People from Black, Indigenous, and People of Colour (BIPOC) communities have a very different experience navigating the criminal justice. They are convicted more often, receive harsher chargers, and are more likely to be subjected to mistreatment by court staff, police and prison guards.
In 2014 only 5% of sexual assaults were reported to the police.
The majority of people who are sexually assaulted do not report it to the police. Women often fear that they won't be believed and can carry a lot of shame when dealing with the trauma of abuse. The process of reporting can be re-traumatizing and is not conducive in creating a safe space where a survivor of sexual assault feels comfortable to share their experience.
Don't forget to click here to listen to our podcast to hear what our guests had to say about their experiences reporting a crime.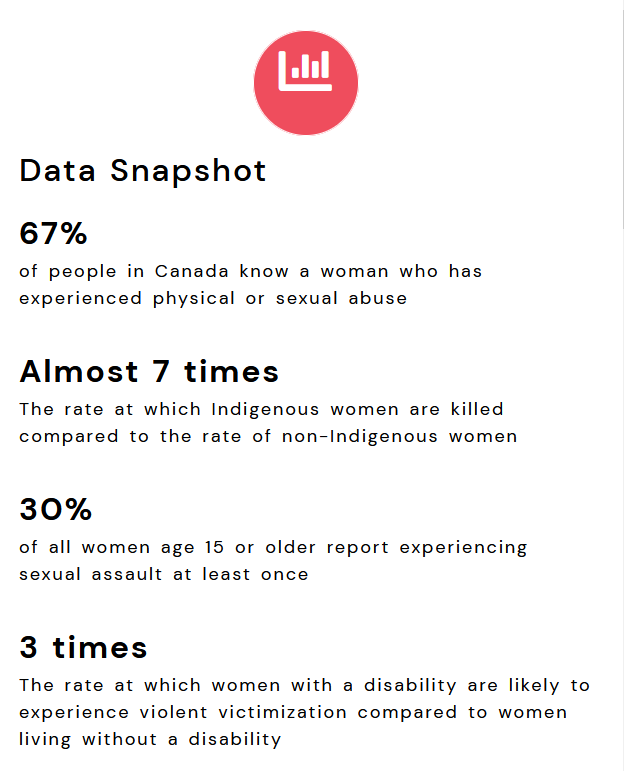 Source: Canadian Women's Foundation
The pandemic has highlighted the increased need for programs and services to support women who have experienced violence and abuse. Due to COVID-19 restrictions and self isolation lockdowns there has been a significant increase in gender based violence. There have been many calls to action to increase awareness and support for women and their children experiencing violence within the home.
Self Isolation measures due to COVID-19 have created a 20-30% increase in gender based violence in certain Canadian regions.
Pandemic-related stressors can increase the risk factors of gender-based violence at home that many women already live with. Quarantines and social isolation often have meant that abusers and those they harm are living in close contact, and other people aren't around to see the signs of violence or provide help. Under normal circumstances, it's difficult for many women to reach out for help if they're experiencing gender based violence and abuse, but the pandemic has made it even harder.
To learn more about local organizations that are providing support to women experiencing violence, please visit:
Nellie's provides programs and services for women and children who have and are experiencing oppressions such as violence, poverty and homelessness. They provide shelter, education and advocate for women and children. CRISIS LINE 416.461.1084
Red Door Family Shelter provides emergency shelter and support for women and children affected by domestic abuse, families experiencing a housing crisis, and refugee claimants with nowhere else to turn. They have a family shelter and Violence Against Women (VAW) shelter both within Toronto.
YWCA Canada is one of the nation's largest provider of shelter to women and children fleeing violence. For 150 years, they have been at the forefront of a movement: to fight gender-based violence, build affordable housing and advocate for workplace equity.
Assaulted Women's Helpline: a 24-hour crisis line is for women in Ontario is available at 1-866-863-0511 (or 1-866-863-7868 for TTY). This service is anonymous and confidential and is provided in up to 154 languages. They will also discuss the warning signs of abuse you have seen and give you practical advice on ways to help.
iDetermine: Online support for women experiencing violence and abuse and a space where you can reach out for help that is safe, accessible and private. Professionally trained counsellors are available 7 days a week, 24 hours a day, via live chat, text and phone.
You can listen to our podcast by visiting Spotify, Google Podcasts or Apple Podcasts and searching our podcast channel Rising Voices.
Written by: Kendra St. Cyr and Natalie Carpentier