We are pleased to have facilitated our first mindfulness series for black women aged 18-29, in partnership with Planned Parenthood Toronto and the Centre for Mindfulness Studies. The Mindfulness for Young Black Women series was held during June 2021 for 5 weeks every Tuesday from 3pm-5pm.
Click below to read the full review of the Mindfulness for Young Black Women series, written by one of the project's facilitators Leslie-Ann Fullerton.
Review of the Mindfulness for Young Black Women Series Oct 2021
In 2019, the
Center for Mindfulness Studies
offered a three-year mindfulness facilitator training opportunity to non-profit agencies and mental health workers in Toronto and the GTA. This program was created to train staff to become facilitators to support youths through the framework of mindfulness. It was specifically designed to support those who face economic and social barriers by providing affordable and effective mindfulness-based mental health services through community programming. The training was divided into two segments: Mindfulness-Base Wellbeing which gave trainees the opportunity to become familiar with mindfulness as practitioners, and Mindfulness Base Intervention where trainees were taught how to design and facilitate mindfulness programs. This training was completed by our Critical Time Intervention Specialist and Outreach Worker, Leslie-Ann.
With the heavy mental health impacts of COVID-19 causing increased anxiety and fear for many, coinciding with the impacts of the recent Black Lives Matter (BLM) protests in 2020, there was highlighted need for more resources tailored for the Black community. Resources that would give members of the Black community tools to process, manage and unpack Race-Based trauma. This reality helped propel the creation of a mindfulness group for young Black women, co-facilitated by Lorena Murialdo from Planned Parenthood Toronto.
Throughout the sessions, women expressed the need for community while they navigated the impacts of the pandemic and BLM. The series covered topics about race-based trauma, mindful communication through difficult conversations, mindful behaviours, self care and the importance of mindfulness for young black women. Some activities were tailored to support intersections of Black womanhood, motherhood, gender, anti-Black racism, and economic currency.
'The isolation caused by COVID-19 as well as the race-based communal trauma created a need for a space where they could freely speak about their mental health and the impact of the pandemic and anti-Black racist encounters'
The mindfulness program was well received by participants, with many expressing the desire for this program to continue and that it supported their need for a sense of community during the pandemic. The participants shared their appreciation for receiving simple mindfulness tools that can be applied in their daily lives, and that they were now able to see how their automatic responses helped to contribute to a breakdown of relationships in their formal and informal lives.
Don't forget to below to read the full report and learn about Leslie-Ann's journey to creating and facilitating this program, and what the participants had to say.
Elizabeth Fry Toronto will be facilitating a new 8-week mindfulness program starting November 1, 2021, on Mondays from 3pm-5pm.. For admission, please email Leslie-Ann at lfullerton@efrytoronto.org or call 647-222- 4271. Deadline to register is October 29, 2021.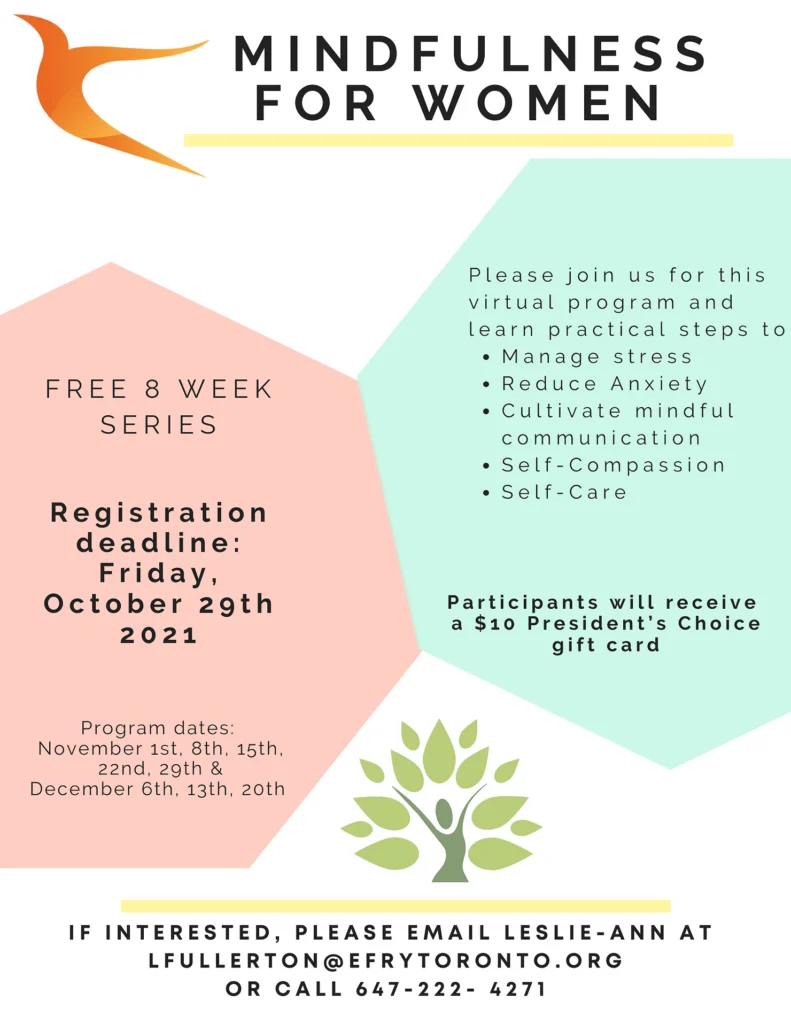 Blog written by: Kendra St. Cyr
Report written by: Leslie-Ann Fullerton