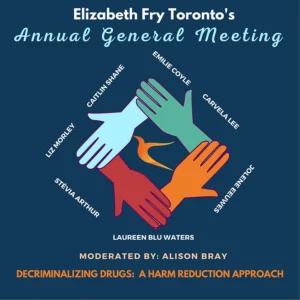 On September 8, 2021 we hosted our second successful virtual Annual General Meeting. We were happy to share updates about our organization and the work we've been doing over the past year with our members, donors and supporters. The business portion of the evening was led by our Board of Directors where we discussed the stability of the organization and recapped Elizabeth Fry Toronto's 2020-2021 fiscal year. We also released our 2020-2021 Annual Report that gives a more in depth overview of our program and services, click here to view it. Afterwards we then hosted a panel discussion on the topic of decriminalizing drugs in Canada and the importance of shifting perceptions of substance use away from a criminal matter through harm reduction approaches.
In 2017, 54% of Black women in federal prisons were serving sentences for drug-related offences. Federally sentenced women are 2× more likely to serve sentence for drug-related offences as their male counterparts, while Indigenous and Black women are more likely than white women to be in prison for that reason. (Office of the Correctional Investigator)
Before we jumped into the discussion, Carvela Lee started us off with a moving spoken word performance that begged us to ask the question, "are substances really the reason why people are being incarcerated?". We were thrilled to have Alison Bray moderate this year's panel discussion with speakers Caitlin Shane, Stévia Arthur, Jolene Eeuwes, Liz Morley, and Emilie Coyle. The evening was concluded by a closing ceremony from Elder Laureen Blu Waters.
The conversation looked at what the process of decriminalization of drugs in Canada would actually involve, and some of the measures needed to reduce the stigma associated with drug use and increase access to harm reduction services and supplies. We also discussed the need to prioritize community-based services and programs that support people who use drugs, especially those who are Black, Indigenous, and People of Colour (BIPOC). Research shows that the criminalization of drugs disproportionately affects racialized and low-income people, which has cost many people their lives. Although Toronto and cities across the country were experiencing the devastating effects of the ongoing opioid crisis prior to the COVID-19 pandemic, there has been a significant increase in fatal overdoses since the pandemic hit. The discussion delved into the impact that criminalizing drugs has had, and how those disparities have been exuberated during the pandemic. More needs to be done to address our current public health crisis to support people who use drugs instead of criminalizing them.
Between January 2016 and March 2020, more than 16,300 people in Canada were reported to have fatally overdosed. Since the beginning of the COVID-19 pandemic, there has been an 89% increase in opioid-related deaths. (Government of Canada – Public Health Infobase)
To watch a recording of our 2021 AGM Panel Discussion please click here.
Moderator: Alison Bray: Harm Reduction Community Education Coordinator, Ontario Aboriginal HIV/AIDS Strategy (OAHAS)
Panelists:
Caitlin Shane: Staff Lawyer – Drug Policy, Pivot Legal Society
Stévia Arthur: ACB Trans and MSM Harm Reduction Coordinator, Black Coalition for AIDS Prevention (Black CAP)
Jolene Eeuwes: SOS Manager, South Riverdale Community Health Centre (SRCHC)
Liz Morley: member of PASAN
Emilie Coyle: Executive Director, The Canadian Association of Elizabeth Fry Societies (CAEFS)
Poet: Carvela Lee
Closing ceremony: Laureen Blu Waters
Before we finished off the discussion, we posed a call to action for our panelists, audience and community at large. Our call to action to 'decriminalize drugs in Canada and shift perceptions of substance use away from a criminal matter through harm reduction approaches' urges government officials, policy makers and community organizations to:
include, support, and empower people who use drugs in all aspects of the design, implementation, and evaluation of drug policies and programmes;

invest in and improve community, health and social services for timely access to a range of harm reduction programs, health care services and safe consumption options; and

ensure culturally responsive and tailored harm reduction strategies for racialized communities.
Don't forget to check out the recording of our AGM, available on our Facebook page!
We are thankful to everyone who tuned in to this year's AGM and were a part of this important panel discussion.
We also encourage you to complete Toronto Public Health's Developing an Alternative Model to Drug Criminalization in Toronto public survey. The survey takes about 10 minutes to complete and will be available until September 27, 2021 at 11:59pm: https://s.tphsurvey.chkmkt.com/?e=239638&h=70CC258973219E5&l=en