The month of June has become known widely as Pride Month in Canada and around the world. The Pride movement was ignited by the 1969 Stonewall Uprising in Manhattan, New York where members of the LGBTQ+ community protested the violent police raids of the Stonewall Inn, a well known gay bar.
In Canada in 1970, the first queer picnic was organized by Toronto's first queer activist organizations (the University of Toronto Homophile Association, Toronto Gay Action Now, and the Community Homophile Association of Toronto), and under police watch, the first gay demonstration was held in Ottawa that year with over a 100 activists attending.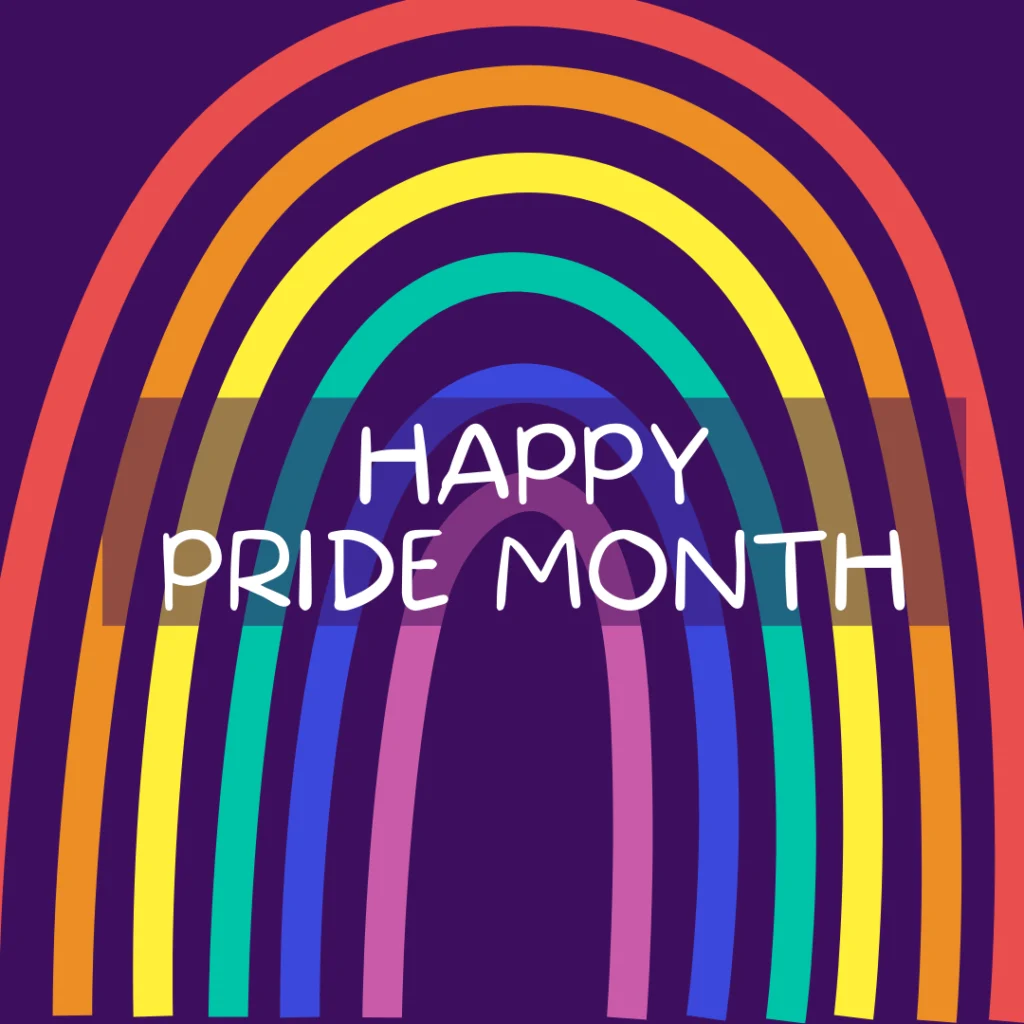 In honour of Pride Month and our dedication to creating an inclusive space for our clients, staff and volunteers, we've released a new episode of our
Rising Voices
podcast, talking about various issues that 2SLGBTQ+ communities are facing, sharing lived experiences as members of the community, and looking at the types of services and programs needed to support the 2SLGBTQ+ identified people that we serve.
Participants:
Co- Host: Kendra St. Cyr, Communications and Fundraising Coordinator
Co- Host: Natalie Carpentier, Manager of Development and Communications
Dylan Gunaratne, Volunteer lead of the Youth Queer Drop-in at Elizabeth Fry Toronto
Kelly Potvin, Executive Director
Sabra Rezaei, Volunteer and Community Services Coordinator
Tabitha, former Chair of LGBTQ Group at Grand Valley Institution for Women
2SLGBTQ+ people are disproportionately more likely to come into contact with the criminal justice system, particularly trans people and queer individuals that are racialized and low-income. There has been a long history of prejudice, abuse, and profiling towards queer people by law enforcement who have long over-policed and under-protected queer communities, leading to increased arrest and incarceration rates. The 2SLGBTQ+ community also experiences high rates of poverty, homelessness, and discrimination in their schools and workplaces, which increases their contact with the criminal justice system. Many of our laws and policies criminalize poverty, homelessness, mental health illnesses, and participation in survival economies like sex work, instead of addressing the systemic oppressions which lead to higher levels of incarceration among the queer community. Within institutions, 2SLGBTQ+ people are also especially vulnerable to homophobia, violence, discrimination, and other forms of mistreatment by staff and other incarcerated people.
20% of youth in the juvenile justice system are LGBTQ+.
For 2SLGBTQ+ youth, there are several factors that contribute to their over representation in the criminal justice system such as stigma, family rejection and conflict, homelessness, mental health illnesses, and involvement in the child welfare system. 2SLGBTQ+ youth are more likely to face neglect, abuse and discrimination at home which leaves them emotionally and physically vulnerable, and can force them to escape their family homes and become un-housed. Those who are supported by their family can still face potential discrimination outside the home at school and in their communities. Queer youth who try to protect themselves from anti-gay bullying and harassment in their schools are often met with a lack of support from administration and punished with detention, suspension and sometimes expulsion, which further adds to their victimization and trauma. These factors also contribute to the heightened risk 2SLGBTQ+ youth face of entering the school-to-prison pipeline.
In the United States, 85-90% of incarcerated LGBTQ youth are youth of colour.
There is disproportionate targeting by police towards LGBTQ youth of color. BIPOC youth are often racially profiled and viewed as more "threatening" by law enforcement, which adds to the prejudice and discrimination they already face if they are also members of the queer community. 2SLBTQ+ communities, especially racialized trans and non-binary people, also have a profound mistrust in police and the legal system due to under-reporting of violence, the apparent under-recognition of transphobic hate crimes, and general anticipated discrimination. Within institutions, trans people face high rates of violence, harassment, and physical and sexual assault, and can often be denied access to basic health care when incarcerated. They are at a higher risk of being sent to solitary confinement for "their own protection" after reports of violence or harassment occurs.
LGBTQ Youth Online Drop-in
First Group: Monday July 5, 2021 at 4pm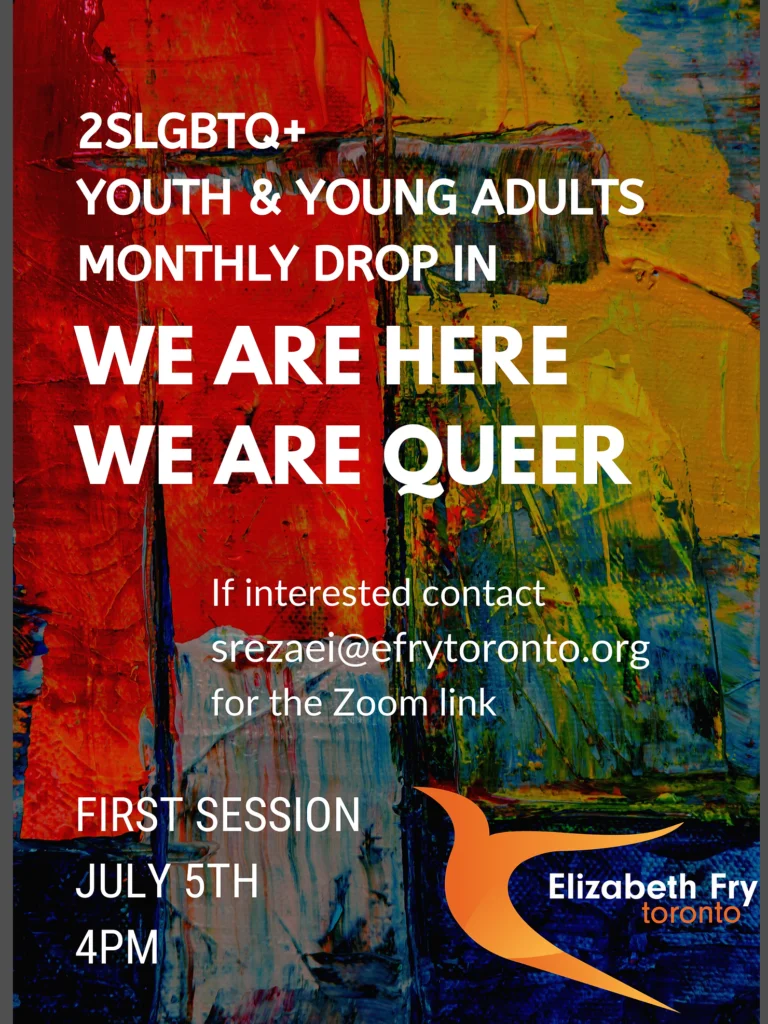 We are proud to be launching this new drop in group for queer youth! With the over representation of 2SLGBTQ+ youth in prison and the amount of queer youth experiencing homelessness we wanted to help address the need and create a space where queer youth can build community and hopefully feel safe to be their true self without discrimination.
Don't forget to click here to listen to our podcast!
To learn more about local queer organizations that support 2SLGBTQ+ individuals, you can visit 2-Spirited People of the 1st Nations, Egale, Friends of Ruby, The 519 and LGBT YouthLine.
2-Spirited People of the 1st Nations provides prevention, education and support for 2-Spirit people, including First Nations, metis and Inuit people living with or at risk for HIV and related co-infections in the Greater Toronto Area.
Egale aims to improve the lives of 2SLGBTQI people in Canada by informing public policy, inspiring cultural change, and promoting human rights and inclusion through research, education, awareness and legal advocacy.
Friends of Ruby supports lesbian, gay, bisexual, transgender, queer, intersex and two-spirit youth (aged 16-29) through counselling, housing, practical assistance and multiple activities.
The 519 responds to the evolving needs of the LGBTQ2S communities by providing a range of programs and services from counselling services and queer parenting resources to coming out groups, trans programming, and seniors supports. They also provide free, accommodating and non-judgemental space to meet, and leadership work through their consulting and workshop services, best practice research and public engagement campaigns.
LGBT YouthLine offers confidential and non-judgemental peer support through telephone, text and chat services. Their HelpLine volunteers are trained peer supporters aged 16-29, coming from a diversity of 2SLGBTQ+ identities and lived experiences. The HelpLine is available Sunday to Friday, 4:00PM to 9:30 PM at 1-800-268-9688 or 647-694-4275.
You can listen to our podcast by visiting Spotify, Google Podcasts or Radio Public and searching our podcast name: Rising Voices.
Written by: Kendra St. Cyr